Holographic Nail Foils
Create spectacular nail designs using Holographic Nail Foils kit. Application takes just 3 easy steps and will transform your nails.
Description
Customize your nails using Rio Holographic Nail Foils nail foiling kit and create spectacular nail art designs, which will really get you noticed! The effects are stunning, the results are amazing and the designs are uniquely yours! Detailed instructions include how to apply the nail foil, along with rhinestone jewels and glitter for that finishing touch!
Features:
8 Holographic Nail Foils
Rhinestone jewels and glitter
Application in just 3 simple steps
How to Use:
Foil Application:
Step 1: Ensure nails are clean and dry. Wipe over with nail polish remover
Step 2: Apply 2-in-1 varnish or a nail polish base colour
Step 3: Apply a thin coat of foil adhesive. You can cover either the entire nail or a section depending on your chosen design
Step 4: Place foil pattern facing up over nail. Using hoof stick rub to transfer foil onto nail
Step 5: Lift away backing film
Step 6: Apply 2 coats of 2-in-1 varnish, remembering to cap the free edge
Treatment Area:
Contents
10 x nail foils
Nail adhesive
2-in-1 varnish
Hoof stick
Fine detail brush
Glitter
Rhinestones
Design chart
Instructional booklet
Instructional DVD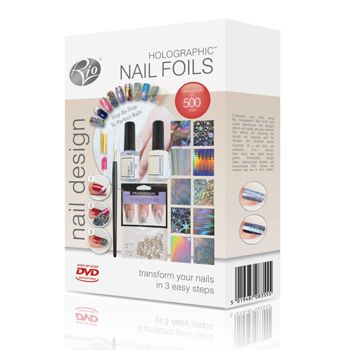 Holographic Nail Foils